Responsible Tourism
Giving back to the environment & community we work in.
Traveling Responsibly.
On all trips with us, every traveler has a chance to give back to the community that lives around the destinations we take you to. From each traveler, we give away one purifying water filter to a school or family in your presence.
As a young steady growing company,
African Safari Holidays
has been passionate about tourism and its sustainable growth in the capacity as a company for that matter 10% of the money on each tour directly or indirectly goes back to the community. "Help does not come from afar before you actually have made no effort to render it to your own". We have been consistently implemented as the company in the following areas for the people and communities around the tourism zones. Sustainable tourism is not a one-man show or one project in a particular area but a responsibility of tour companies, tour guides, and the travelers themselves.
The truth is the people who travel are willing to help but either they are misinformed or money they donate lands in the wrong hands that creates little on no impact on sustainability. Having noted this as a company, we set out to work with credible organizations and also random households or schools along the tourist routes.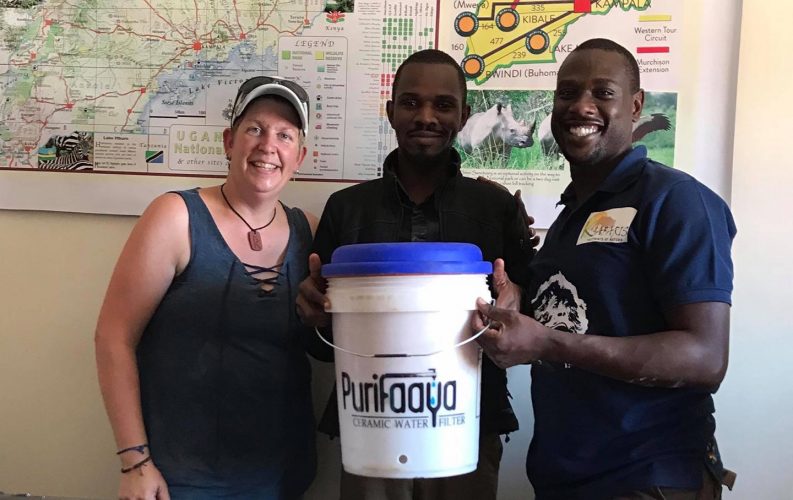 African Safari Holidays
went on to research and see how effective some of the methods would function. As our visitors travel with us we have been encouraging them to interact with the local communities as much as possible, buying fruits directly, stopping by roadside markets and around the lodges as well as schools, orphanages, and other community projects. With this effort, we have seen results and golden opportunities for the last two years.
Responsible Tourism Projects
We have worked on the following Projects:
Change a life Bwindi
Ruhanga Development School
Special needs Special Children
Tuzure Art project Kampala
and Miriam High school Kisasi which is close to our office as well as where some of our girls we sponsor school from.
The faces of both our visitors and communities lit up in dances and happiness as we witness this growth. Our main focus has been on the following;
Safe clean drinking water.
In the month of October 2018,
African Safari Holidays
partnered with a former client who particularly picked interest in our message and started a Facebook campaign to buy water filters that we distributed to different households, schools, communities, and special children organizations. Some of the photos are on our Facebook page.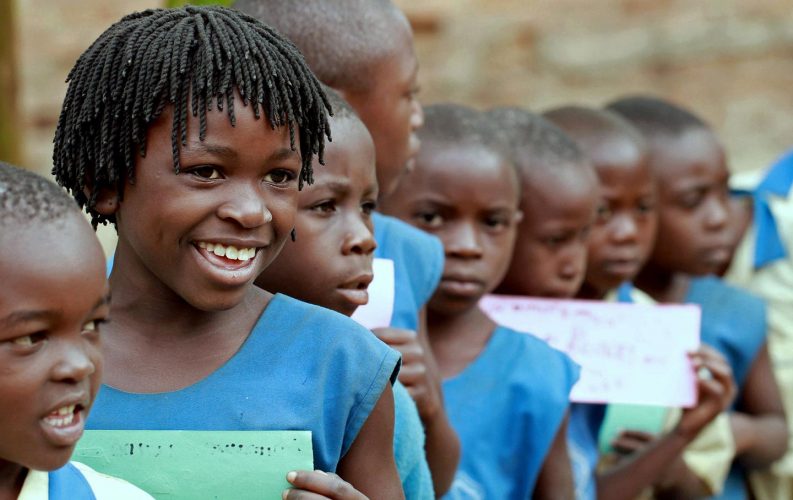 Education for the young people.
African Safari Holidays
and the Director Asiimwe Richard Kacururu has a passion and drive to educate the girl child at any age and in his wild dream he freely shares and as of today has about 5 children he pays school fees for on scholarship basis.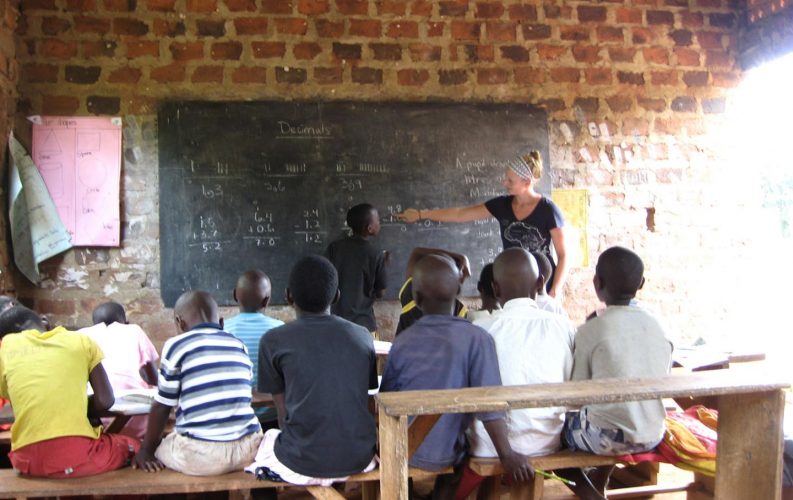 This vision has touched others who have so far added another 3 girls bringing the total to 8 from different regions and we are still counting. Sustainable good education is our responsibility as a company and we would say this is the fulfillment of our business and as individuals in K safaris.
Health Watch
(We donated a water filter to one of the Medical facilities in Kampala. Name withheld due to sensitivity of the institution. We are however in talks with the health travelers to ensure that we start health camps alongside tourism for free or minimum treatment fee as we use tourism in a much sustainable way. We project to start giving out re-usable sanitary towels to girls in the rural tourism areas and schools next year.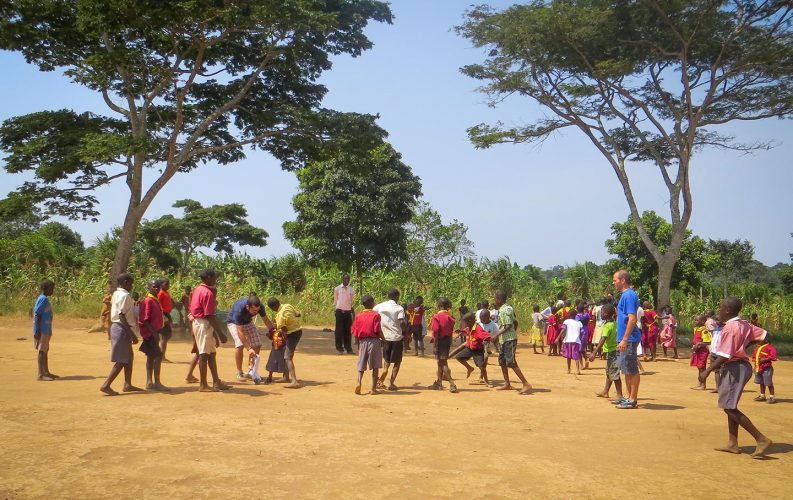 Sports (Women in sports)
We are in talks with a female volley ball club in Kampala to start sponsoring then in a cause of awareness and as a product to tap in the sports tourism and we see the beauty of Uganda and Rwanda.
Our concentration goes to women and children as the marginalized however we do not forget the boy child to balance the equation.
Best Time to Go
December to February (Easier to spot animals).
High Season
June to September (Peak time for Uganda Safaris)
Best Weather
June and July (Less rain and lower temperatures).
Top Travel Activities
Morris Mugisha
2020-06-17
Verified
Best experience Excellent time with Ksafaris. Thanks Mr Richard Asiimwe for being a great guide. We all had a marvelous time.

Verified
Gorilla Safari, and a very personal experience I had the pleasure of spending time with Richard on a Gorilla safari recently, which in itself is an amazing experience, but he went beyond the normal duties of a guide (I've spent time with a few). I asked to get off the tourist trail and meet real local people, and eat real local food. He did that for me and by doing so enhanced my African experience with memories I will hold dear for life. He introduced me to local markets, and local tribes, and the places where Africans would go to eat lunch, not the tourists, and for that I am truly grateful, and I will be back.
VeryHungryNomad
2019-11-08
Verified
A 5-star experience! We booked a 4-day gorilla safari package with KSafaris and we had an absolute blast! Our trip started with a pick-up in Kigali and we drove across the border to go trekking with gorillas in Bwindi National Park. Afterwards we spent some time at Lake Bunyonyi, a highlight for sure. Prior to the trip, we found KSafaris online and the countless 5-star reviews from past guests was comforting. We contacted the company directly to ask for more information about what they can offer and found Richard to be very responsive, helpful and professional. We felt lucky to have Richard as our guide/driver for our trip. Always smiling and aiming to please, he's a fantastic guide and just a wonderful person too. He's been working in the travel industry for over a decade and it's clear to see his passion and dedication to show visitors a 'real travel experience' in Uganda. For anyone wishing to visit Uganda and beyond, these guys will deliver the trip of a lifetime. Highly recommended 🙂

Verified
Uganda Safari We have just has a twelve night safari with Richard from K-Safais in Uganda. It has been a memorable experience. We are retirees and were a little apprensive about how we would cope with the pace on the road and managing in a different environment. Before we left home people who heard of our plans would warn us about security and health issues we would encounter. Let me say now that their ideas were formed without any knowledge. Once we met Richard we knew we were in good hands. He visited us on the evening before we set out and his enthusiasm for showing us his beautiful country and its wildlife was most inspiring. Richard made our trip very interesting and a lot of fun. He anticipated all our needs in a very hospitable way. He focused on giving us an "experience" and he far surpassed all our expectations: entry to national parks, arrival at accommodation, connecting with local communities, answering all our questions were all smoothly and cheerfully achieved. Richard showed us so much wildlife and taught us a lot. He made sure that our trekking experience was manageable and successful! Four wheel driving in Uganda proved to be fun and interesting and mostly quite comfortable. We had a great driver in Richard. I felt that I was watching a spectacular movie from my seat in the vehicle. Now that our holiday is over, I am amazed at the memories we have and very grateful to Richard and K-Safaris. We highly recommend seeing Uganda with K-Safaris and we are confident that anyone who travels with Richard as a Tour Guide will have an amazing experience.
Verified
My Amaazing Safari Experiences! Arrived back in Sydney a week ago today. Am slowly re-adjusting to life back in this madhouse, but wish I were back in Uganda. I'll bet most people in Australia have heard absolutely nothing about Uganda since the era of Idi Amin?! Certainly it seems that way from what I read on Australia's Department of Foreign Affairs and Trade's smartraveller website before I left. And from the fact that most insurance companies wouldn't insure me!!! In the end, for the first time ever, I didn't bother with travel insurance. And I didn't need it!!!. I felt safe from the minute I arrived until the minute I left. I found the Ugandans to be beautiful people, both physically and spiritually: polite, gentle, and helpful wherever I encountered them, and I encountered them from north to south of the country. It's a toss-up as to which was the highlight of my trip: the time I spent with the mountain gorillas or the Ugandans I encountered. One of these in particular I recommend to you highly should you be tempted to go and see the gorillas and the other abundant wildlife: Asiimwe Richard Kacururu, managing director and head guide of K safaris Richard is an extraordinary young man and a safari guide par excellence!!! I went on two safaris with him and both were enlightening, informative and FUN from beginning to end. My emails and many questions to Richard were responded to rapidly and in depth to help me prepare for my trip. His attention to the finest details of my requirements for my best possible experience of Uganda truly amazed me! And as a 78 year old solo traveller I had more than the usual requirements. Disclaimer: I don't have shares in this company and I'm NOT being paid to sing his praises. I freely offered to do so. If you do happen to be thinking of going to see the gorillas I recommend the TripAdvisor website where Richard's safaris receive 5-star reviews and a Certificate of Excellence, and the Safari Bookings website where he also receives an aggregated 5-star review. I agree with all those who have travelled with him that he provides the experience of a life time in Uganda!

Verified
Wonderful experience My girlfriend and I went on an amazing 4 day trip to Murchison falls national park and we had a great tour guide who always smiled and explained the history and facts during the whole trip. Amazing amazing travels

Verified
Fantastic Trip To Uganda & Rwanda with K Safari's We worked with Richard at K Safari's and he put together a trip we will treasure the memories of forever. From the moment we were picked up at the airport by Richard and his team we felt taken care of, safe and in the best hands to see the wonders of Rwanda and Uganda. The trip with K Safari's was well planned and executed without any problems. Transportation was comfortable (even with the bumpy, "Africa Massage" roads.) Richard and his team were flexible and accommodating to our needs and the needs of the three teenagers traveling with us. I would HIGHLY recommend K Safari's and Richard if you are considering a trip to Uganda and or Rwanda!
Verified
An excellent experience We did a lot of research before selecting K Safaris for our two-week trip to Uganda and Rwanda. What made K Safaris stand out was how responsive they were and how focused they were in making sure we had an excellent experience, both while planning and during the trip. I would highly recommend traveling with K Safaris. Let them know your interests, and they will tailor a trip to fit your needs. In addition to the amazing safaris, we really enjoyed the time we got to spend getting to know the Ugandan people, including in the markets, at cooperatives and other interactions planned by K Safaris. We were very impressed with how seamlessly Richard helped us address changes we needed along the way, like changing flight schedules and changing needs among our seven-person group. We traveled with Richard and Emma. They were both a lot of fun and clearly passionate about what they do.

Verified
2016 Uganda tour We were travelling with Richard in 2016. It was our first experience with Africa and everything went quite well. We did more journeys later and after that we realized how good Richard had been. We can compare him to other African tour operators and due to this comparison Richard is really good choice. According to our experience you need someone clever, knowledgeable, with ability to think flexibly, when things go wrong and you are forced to change a plan, someone, who can give you in this situations new options and tell you truly pros and cons. These skills are more common among european or american professional tour operators, but in Africa are not. Then if you add his sense of humor and perfect English, you will have a great time with him with assurance, that he can handle problem situations. We wish him good luck with tour guiding and many satisfied clients. Katerina and Jiri, Czech Republic
Verified
Excellent Gorilla Trekking Experiences! K Safaris offered quick dependable feedback when booking our trip via email, had reliable transportation for us throughout Rwanda and Uganda, had good accommodations, and they were able to secure our gorilla permits for Mgahinga Gorilla and Bwindi Impenetrable National Parks during high season which were two very unique and memorable experiences.